Fees of IAS Coaching in Chennai
Fees of IAS Coaching in Chennai
What Is Cost Of IAS Coaching At Chennai Or What Is FEE Of IAS Coaching At Chennai? 
by our  research we found that that top Institute charge roughly around 2lakhs rupees or more  for 1 year Institute and coaching centres ,Here in this article to get the details of fee and fee structure of Institutes and how it is Best and economic for students. As we all know that coaching laids as foundations of career and helps in tackling the government exam . Understanding that helps in cracking the government exam take time and years to preparation does one need to understand the level and consistent dedication needs for such exam and preparation. Now when an individual is investing so much and preparations time hard work and dedication one names coaching centre as a mentor to guide them on the pathway of success . In this we discuss about fees of IAS Coaching in Chennai.
Importance of UPSC and IAS Coaching in Chennai to Achieve the Best Score and results ,
There is numerous  number of coaching institutes growing in Chennai. Which one to select? It is very important to pick up the right IAS Coaching Institutes in Chennai for your selection.
There will be some changes updated with respect to the IAS syllabus. It is extremely important for a candidate to focus on preparation, syllabus updates, personality development, and interview all alone hence coaching centers are needed,
Luck might not  be in favor till the right amount of hard work is done .  Hence  you want to choose the Top IAS Coaching in Chennai
we will discuss about top institues and fees in Pune.
# 1 All India Civil Service Coaching Center
The top reason when you need to study for your IAS examination is the institute is providing all the option to stay at the hostel and  free food. All stages are prepared coaching for Prelims, Mains and Personal interview.
THIRU K.PHANINDRA REDDY, I.A.S is the founder and director of the All India Civil Service Coaching Centre. The institute was started in the year 2000 with the only aims to give free quality knowledge to talented students . Each year competative exam will be conducted, and the talented candidates will be shine to join the organization. Stipend amount also given to the candidates per month for their mains exams training.
Courses offered:
Preliminary exam coaching for the IAS exams.
Mains exam coaching for the IAS exams.
Personal Interview training.
Admission Procedure:
Entrance examination will be conducted for the students who are willing to get trained in the All India Civil Service Coaching Center. Eligible candidates will be asked to join in the prelims exam training after the entrance results.
Students who succeeded in first stages that is  preliminary exam can join straightaway into the Mains class without any procedure.
Address details: 163/1 Kanchi, PS Kumarasamy Raja Road, South Kesavaperumalpuram,
Raja Annamalai Puram, Chennai, Tamil Nadu 600028
Phone: 044 2462 1475
Website: http://www.civilservicecoaching.com/
Fees details
| Course Name | Course Duration | Course Fees | Course Details |
| --- | --- | --- | --- |
| Regular General Studies – Prelims, CSAT, Mains | Duration – 32 Weeks | Starts from Rs. 100000 |   NA |
| Regular General Studies – Prelims, CSAT, Mains | Duration – 48 Weeks | Starts from Rs. 100000 | NA |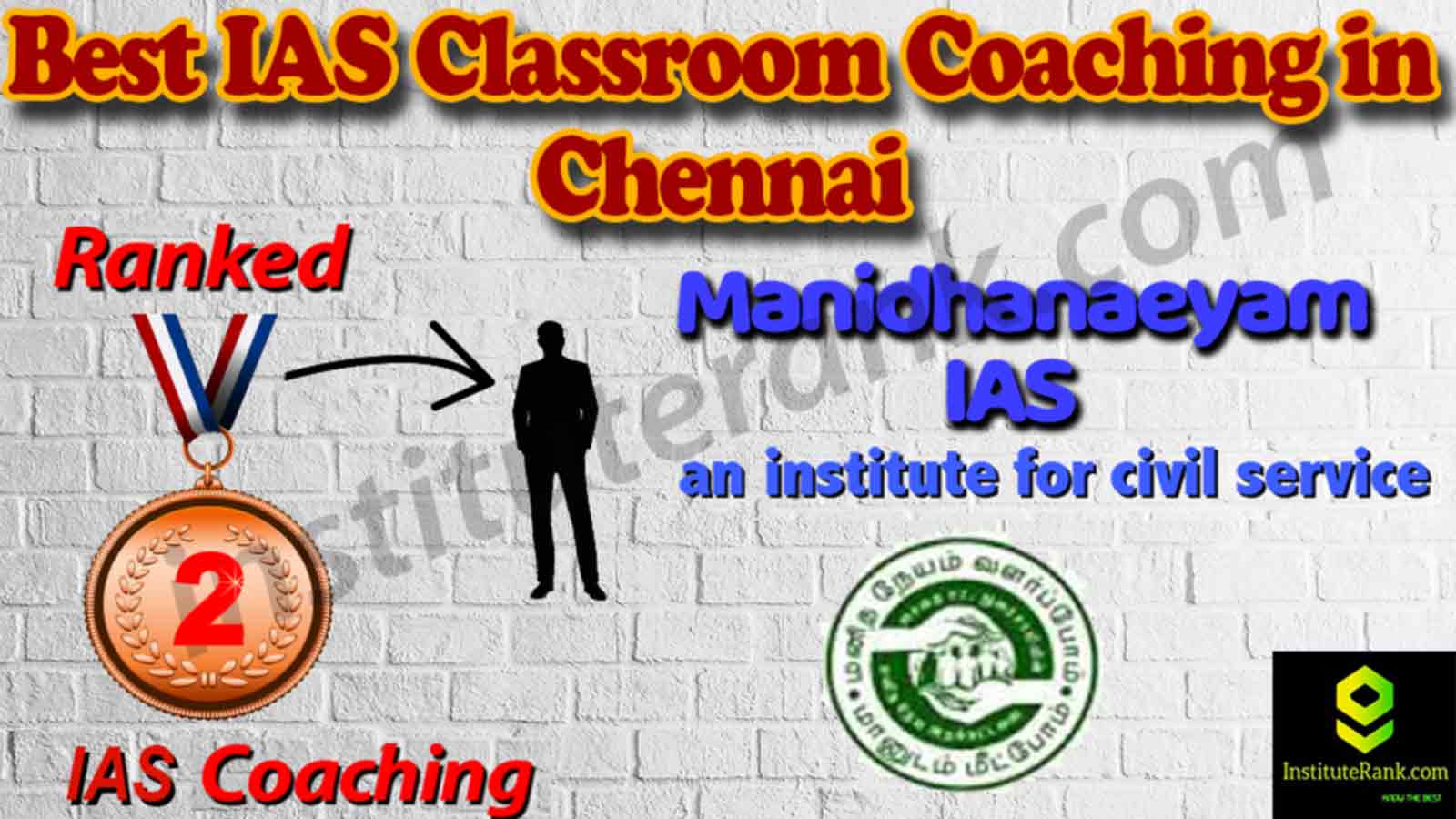 #2 Manidhanaeyam IAS & IPS  Coaching Centre
The best thing about the Saidai Duraisamy's Manidha Naeyam IAS Coaching Centre is they provide best education to all the IAS aspirants throughout the course period. The founder of the institute understand that some people have a very poor financial backup and have a good talent to serve for the nation.
Saidai Duraisamy is the founder of the Manidha Naeyam institute, and it got established in the year December 2006. Not only students in Tamil Nadu but also every other state candidate can join here for the training classes. If you are looking for the best institute in Chennai with free IAS training courses, then this coaching center is the best one.
Courses offered:
IAS and  UPSC training classes will be offered at the Manithaneyam IAS academy.
Coaching for the TNPSC group 1, 2, and 4 exams will also be conducted here
Admission procedure:
On the official website of Manithaneyam institute, the registration form will be given for the candidates. Applicants need to complete and send the form to the center to confirm their place in the coaching center during the training period.
Address details:
No. 28, 1st Main Road, C I T Nagar, Chennai – 600 035
Phone: 9025408908, 044 – 24358373 / 24330095
Website: http://mntfreeias.com
Fees Details :
Manidhanaeyam IAS & IPS  Coaching Centre
| Course Name | Course Duration | Course Fees | Course Details |
| --- | --- | --- | --- |
| Analog General Studies – Prelims, CSAT, Mains | Duration – 300 Classes | Fees – Rs. 10000 | Civil Services – Prelims & Main Study Material C |
| General Studies + Optionals | Duration – 9 Months | 10000 | NA |
Regular Batch IAS coaching fee
General fee structure  can be different from coaching to coaching but lies near 1230000.
IAS coachings charge fee for different subjects wise planning  Papers:
As many students opt for GS and other subjects from a unique coaching and optional from different coaching or teachers.
IAS coachings charges fee for mock  series. value  of test series
Some students can  apply for mock Test Series only .  mock Test series and self preparation modules of coaching are also gaining importance as many students who prepare for IAS exams are working class and it becomes difficult for them to attend regular classes.
Week End class Fee:
Many centres have their weekend class structure as well. In weekend class working students take part and fee for week end class is again divided in two sections
GS
Optional
Whats can be ways to get fee concession in IAS coachings of Pune?
One another way of getting concession of fee at IAS coachings of Pune ta is to get admission from coaching consultants. Coaching consultants give large number of students to coachings and thus they charge marketing fee from coachings of IAS on their own.
Generally big coaching consultants are on admission panel of most of coachings and thus students take suggestion from those educational consultants and these coaching consultants offer some discount to students from their charges.